Hear Me Now is improving Annual Health Checks for GPs and their patients
Hear Me Now is being used by GPs across the UK to help people with a learning disability improve their Annual Health Checks.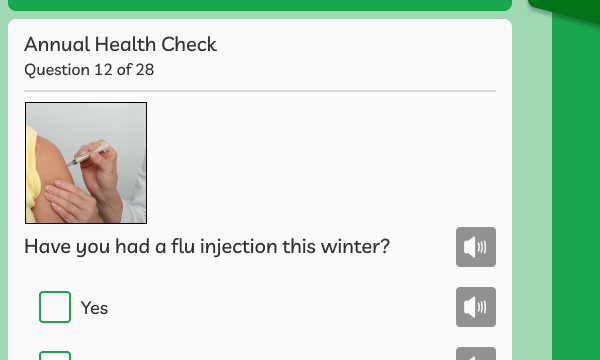 Using the Questionnaires feature GP surgeries who have patients who use the Hear Me Now app can send an easy-read pre-annual health check questionnaire directly to the app user.
Trials have shown that users can complete the 50+ question questionnaire in around 40 minutes and as soon as it's complete the GP is able to start to analyse the answers and prepare for the patient's Annual Health Check appointment.
An Annual Health Check is available to anyone aged 14 or over who is on their GP practice's Learning Disability Register.
Once the Annual Health Check is complete the GP can send the app user their Health Action Plan directly to the app.
Watch this video below to find out why it's so important to make sure the Annual Health Check is carried out. If you are a GP and you'd like to know more about using the Questionnaires feature with your patients then contact Maldaba at hmn_support@maldaba.co.uk