Saving time by improving quality, dignity and independence
Hft staff support someone's wishes for more dignity and independence, using Hear Me Now to enable them to perform tasks on their own. In one instance an annual benefit of £54,750 (when scaled-up) was made by following a person's wishes by helping them to become more independent.
Hft is one of the largest and longest established charities supporting people with a learning disability in the UK. People with learning disabilities face obstacles that are hard to imagine – their challenges can be complex and lifelong. Even so, with the right care, support and encouragement, everyone with a learning disability can find more enjoyment, comfort and satisfaction in their lives. That's why everything Hft does is centred on the people being supported.
Maldaba partnered with Hft for the NHS Digital Social Care Pathfinder Programme in 2020/21. Although this was a challenging time with lockdowns and the associated pressures in social care, this stimulated innovation and creativity. Hft understand that the Hear Me Now (HMN) concept aligns with their vision to support people with learning disabilities to live the best life possible.
Maldaba partnered with Hft's Personalised Technology (PT) team to train staff within some of Hft's supported living homes with great success, through a tailored on-line programme. Maldaba provided staff support with a monthly drop in to help share good practice and support each other to overcome challenges.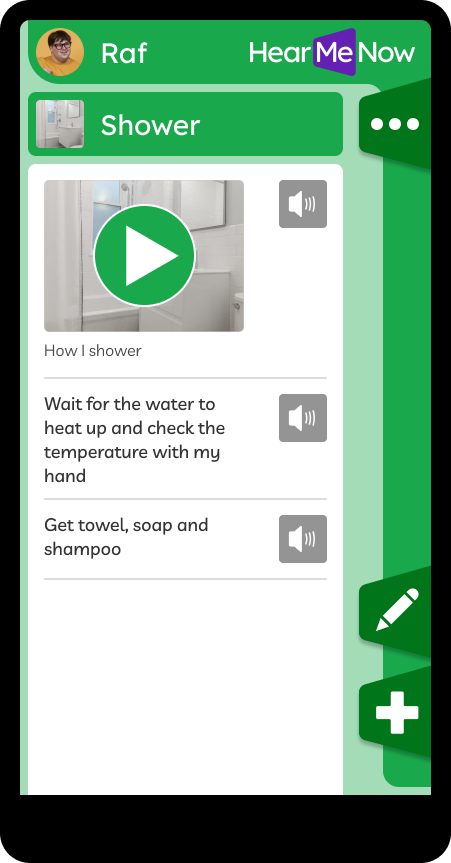 One individual, Raf, who is supported daily needs support to help him with his personal hygiene routine, including showering. He used Hear Me Now to express his desire to shower in private and to reclaim some of his dignity. Maldaba supported Hft staff to sequence his routine into Hear Me Now using multimedia. The individual is now able to shower on his own, safely, in accordance with his wishes. Staff have released 40 minutes per day, which they use for other tasks.
Staff have gained confidence and are using Hear Me Now to drive greater independence and dignity for residents. A business benefit realised was that with greater independence came greater personalisation and reduced support time for some tasks allowing staff to focus on supporting people in more meaningful activities, such as keeping in touch with family and friends.
We know there are many more people across Hft who would benefit from Hear Me Now in this way, it is just a matter of getting it into people's hands and offering the right support to individuals and their support staff to learn how to apply it. It is so easy to use and has so many benefits for the person and everyone around them.

Emma Nichols, Hft's Personalised Technology Manager
Outcomes
Supported people are able to express their preferences and wishes for increased independence and dignity
Staff are able to release their time to spend on other tasks
Scaled-up to 15 service users, Hear Me Now had the potential to provide approx. £55K in-year benefit to Hft, supporting people's independence
The service freed up over 243 support hours annually with this one change.
HMN enables Raf to:
record and hold his information about his asthma (Asthma action plan)
set reminders
store appointments
record his interests
communicate with the service manager
shower independently
Contact us to learn how we can help you
Speak to us about how Hear Me Now can help your organisation to increase independence for people with cognitive impairments in your area.