Raf – Increasing Independence
Articulate Preferences
Independent Living
Reducing costs
Sequencing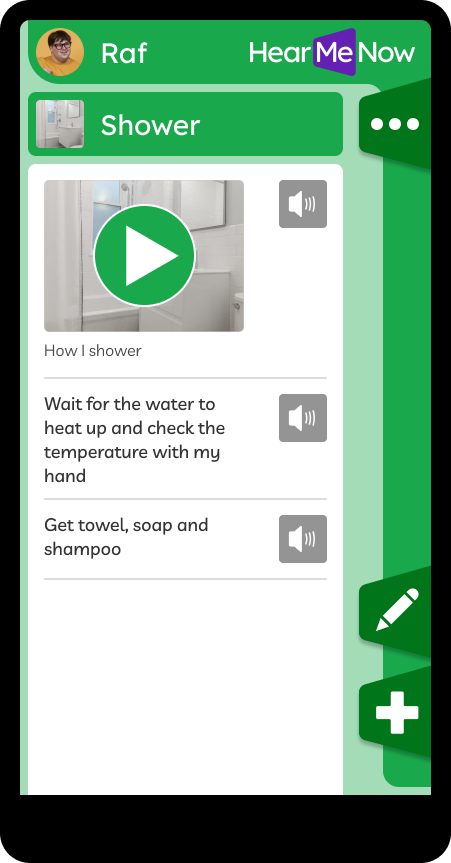 Raf is a 39-year-old man, he lives in a supported living service made up of six self-contained flats. There is an onsite communal area where Raf and others take part in daily activities. He has staff support to enable him to carry out daily life skills, prompt him to take medication and ensure he has carried out his personal hygiene regime correctly.
Two key workers support Raf as he showers every other day for about 15 minutes. They help Raf reminding him of the process and the sequence of taking a shower, and keeping Raf safe.
Ref used HMN to express his preference to shower on his own, and restore his dignity. With Maldaba's help, Raf and his support staff sequenced his shower routine in HMN. Raf now uses HMN when he is showering. It reminds him of the process when he is in the shower.
This means that the 2 staff are no longer needed saving an equivalent of over 90 hours in a year. Most importantly Raf has more dignity and independence.
There isn't anything that Raf doesn't like about HMN or finds difficult.
Using HMN allows Raf to increase his independence and dignity as well as saving valuable staff time.
HMN has encouraged Raf to document what is important to him. It has helped me understand what is important to Raf from his perspective. In addition to this, it has offered Raf a recording tool which he can use independent of his staff team.

Hft service manager
Hear Me Now (HMN) enables Raf to:
record and hold his information about his asthma (Asthma action plan)
set reminders
store appointments
record his interests
communicate with the service manager
shower independently
Raf has expressed that using HMN has:
helped him with his spellings
helped him to read / understand the content of what is in the boxes. Raf uses the voice assistant button
helped Raf to keep and see his own information
enabled Raf to keep in contact with Kay (service manager)
enabled support time to be utilised in a more meaningful manor, with the time freed-up by staff no longer having to enter the bathroom with Raf
supported Raf to socialise; Raf enjoys showing people the app and all of his likes in it, especially football
helped Raf understand and have access to information around his asthma
Contact us to learn how we can help you
Speak to us about how Hear Me Now can help your organisation to increase independence for people with cognitive impairments in your area.